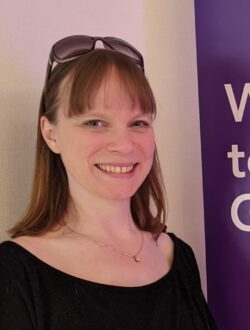 Amy Tyndall
(MPhys, PhD)
Job Title:
Communications Officer
Contact Email:
[email protected]
Contact Number:
0131 4456 148
Address:
The Moredun Group, Pentland Science Park, Bush Loan, Penicuik, Midlothian EH26 0PZ
Job Role
Amy joined Moredun as Communications Officer in 2019. Her role includes generating press releases, maintaining Moredun's website and social media accounts, editing the biannual Moredun Magazine and assisting at public events.
Biography
Amy completed an undergraduate Masters degree in Astrophysics at the University of Liverpool in 2008, before going on to study for a PhD in the same subject with the University of Manchester's Jodrell Bank Centre for Astrophysics.
Amy went straight into a career in science communication and public engagement ('Sci Comm') after graduation, initially working as a Public Outreach Officer for ESO Chile before moving to Edinburgh in mid-2015. Here, she has worked in Sci Comm across a number of different disciplines including roles at the Royal Observatory Edinburgh and the University of Edinburgh's Centre for Inflammation Research, MRC Centre for Regenerative Medicine and EPSRC Proteus Interdisciplinary Research Collaboration. She is also a freelance science writer, with several publications printed in popular national magazines.
Amy completed a CIPR Professional Certificate in PR in 2020 to formalise some of the skills she has picked up in her career.