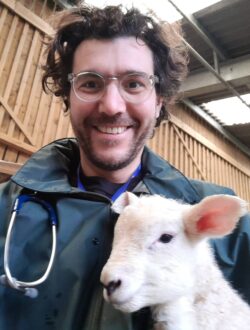 Thomas Tzelos
(DVM, MSc, Ph.D., MRCVS)
Job Title:
Veterinary Clinical Officer
Staff ORCID ID:
0000-0001-6908-2807
Contact Email:
[email protected]
Contact Number:
0131 4455 111
Address:
The Moredun Group, Pentlands Science Park, Bush Loan, Penicuik, Midlothian, EH26 0PZ
Job Role
I provide clinical veterinary medical and surgical services to the Moredun Group.
Biography
Dr. Thomas Tzelos is a dedicated veterinarian with a passion for translating research into practical solutions for animal health. Currently serving as a Veterinary Clinical Officer and Named Veterinary Surgeon at the Moredun Research Institute since December 2022, he provides expert medical and surgical services to the Moredun group.
Thomas holds a Bachelor of Veterinary Medicine from the Aristotle University of Thessaloniki, an MSc in applied animal behaviour and animal welfare, and a Ph.D. in molecular parasitology from the University of Edinburgh.
Throughout his career, Thomas has contributed significantly to veterinary science and has a remarkable track record in research and innovation. Notably, he was part of the team at Moredun Research Institute that developed and validated a diagnostic test detecting encysted cyathostomins in horses, commercially available since 2017. Subsequently, he moved to the Roslin Institute, University of Edinburgh, as a Research Fellow. He focused on veterinary developmental biology and immunology, working on projects funded by the BBSRC. His expertise extends to vaccine development in livestock and innovative approaches like reverse vaccinology.
In addition to his research expertise, Thomas is a skilled communicator, evidenced by his appearance as a parasitology expert on the "Vet Essentials – Worming" program for Horse and Country TV. He has also demonstrated his creativity by serving as the script editor and director of the short animated film "War of the Worms."
Current Research
I am involved in animal health-related projects