NSA and Moredun webinar – Tick control and louping ill
Event date: Wednesday, 20 September 2023
Event location: Online webinar
Audience:
Farmers, vets and the general public.
NSA and Moredun webinar – Tick control and louping ill
Date: 20th September 2023
Time: 7.30pm
Chaired by Peter Myles, NSA Scottish Region, join experts Matt Colson (vet), Beth Wells (Moredun) and Simon Thorp (Bracken Control Group) for an evening webinar on reducing the risks of ticks and louping ill in your flock.
Matt will cover tick control, management and treatment options.
Beth will discuss the louping ill vaccine in the pipeline.
Simon will explain how bracken control is essential to reduce the habitats needed for tick populations to thrive.
There will be ample opportunity for Q&A so don't miss out.
Register for the webinar above via  – the link.
Collect 8 AMTRA and 2 RoSA CPD point(s) for attending this webinar.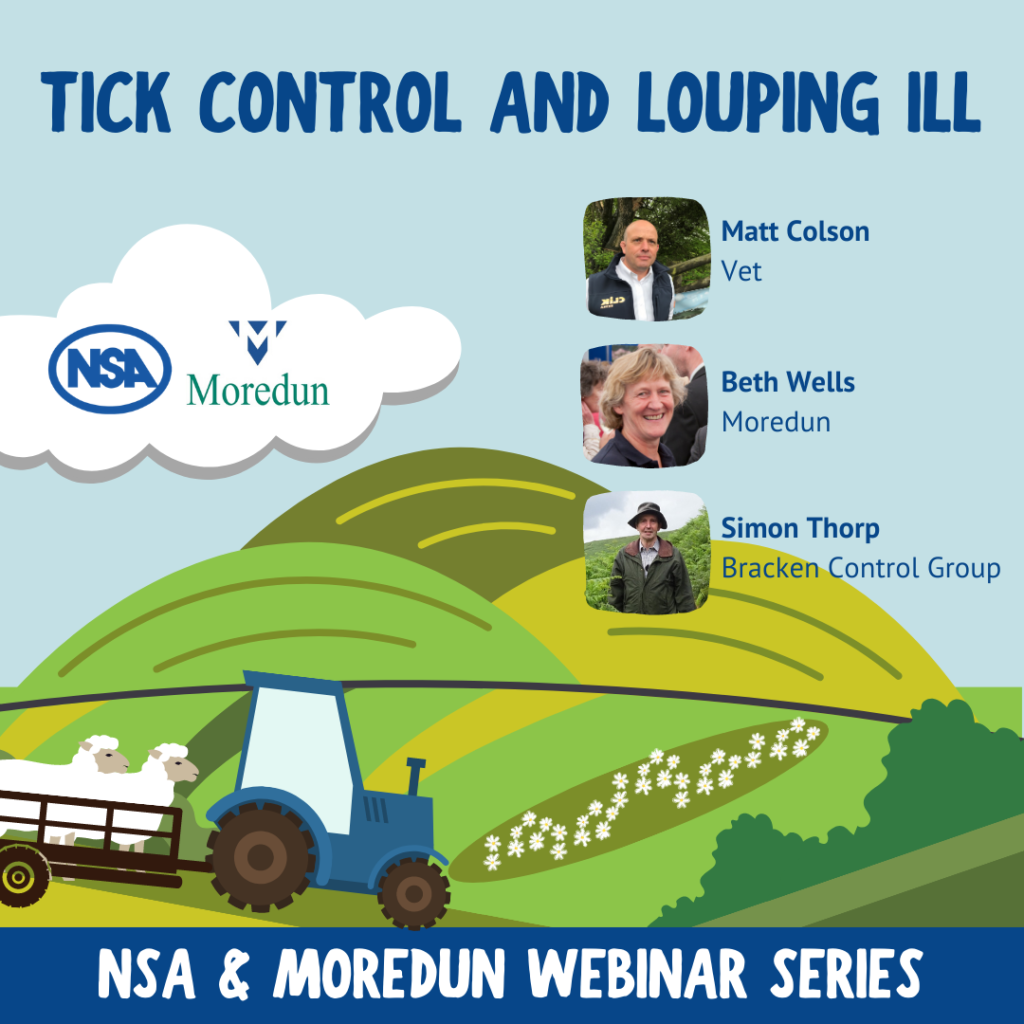 Speaker bios:
Matt Colson: Matt qualified from Edinburgh in 1986 and worked in mixed, mainly large animal practice in Scotland and Cumbria (including a few years teaching at the vet school) until 2013 when he joined Novartis Animal Health (which was bought by Elanco Animal Health) as a Technical Consultant. He also spent some time as a non-exec director for the Moredun Foundation and served a term as president of the Sheep Veterinary Society.
Simon Thorp: Simon is the coordinator of the Bracken Control Group (BCG), which operates across the UK. BCG established in 2011 and is responsible for submitting the annual applications to allow the continuing use of the main bracken control herbicide (asulam marketed as Asulox), since the 2013 season. Simon was the Director of The Heather Trust from May 2002 until March 2018, and this role provided experience of upland issues in all parts of the UK. Other recent roles include Director of Scotland's Moorland Forum and Chair of the England & Wales Wildfire Forum. Prior to joining The Heather Trust, he gained extensive experience as a chartered surveyor working in rural management, including being the Resident Agent on two estates in England.