The Cabinet Secretary for Transport, Net Zero and Just Transition, Ms Màiri McAllan MSP, was welcomed to Moredun at the Pentland Science Park on the 15th of November 2023 by Dr Tom McNeilly, Scientific Director of the Moredun Research Institute and Chief Executive of the Moredun Foundation.
This was Ms McAllan's first visit to Moredun who recognised the significant contributions made by farmers to Scotland's communities and rural economy, and the need to support the agricultural sector through a Just Transition in moving towards Net Zero.
Dr McNeilly, Deputy Director of Moredun Research Institute, Professor Alisdair Nisbet and Chief Operating Officer, Dr Richard Mole, introduced the Moredun Group and examples of impactful research supported by funding from the Scottish Government. Principal Scientist, Dr Philip Skuce then provided Ms McAllan with an overview of the role of livestock health in reaching Net Zero targets. Dr Skuce highlighted the 'Acting on methane" report which details available interventions for priority health and welfare, with methane reductions in mind.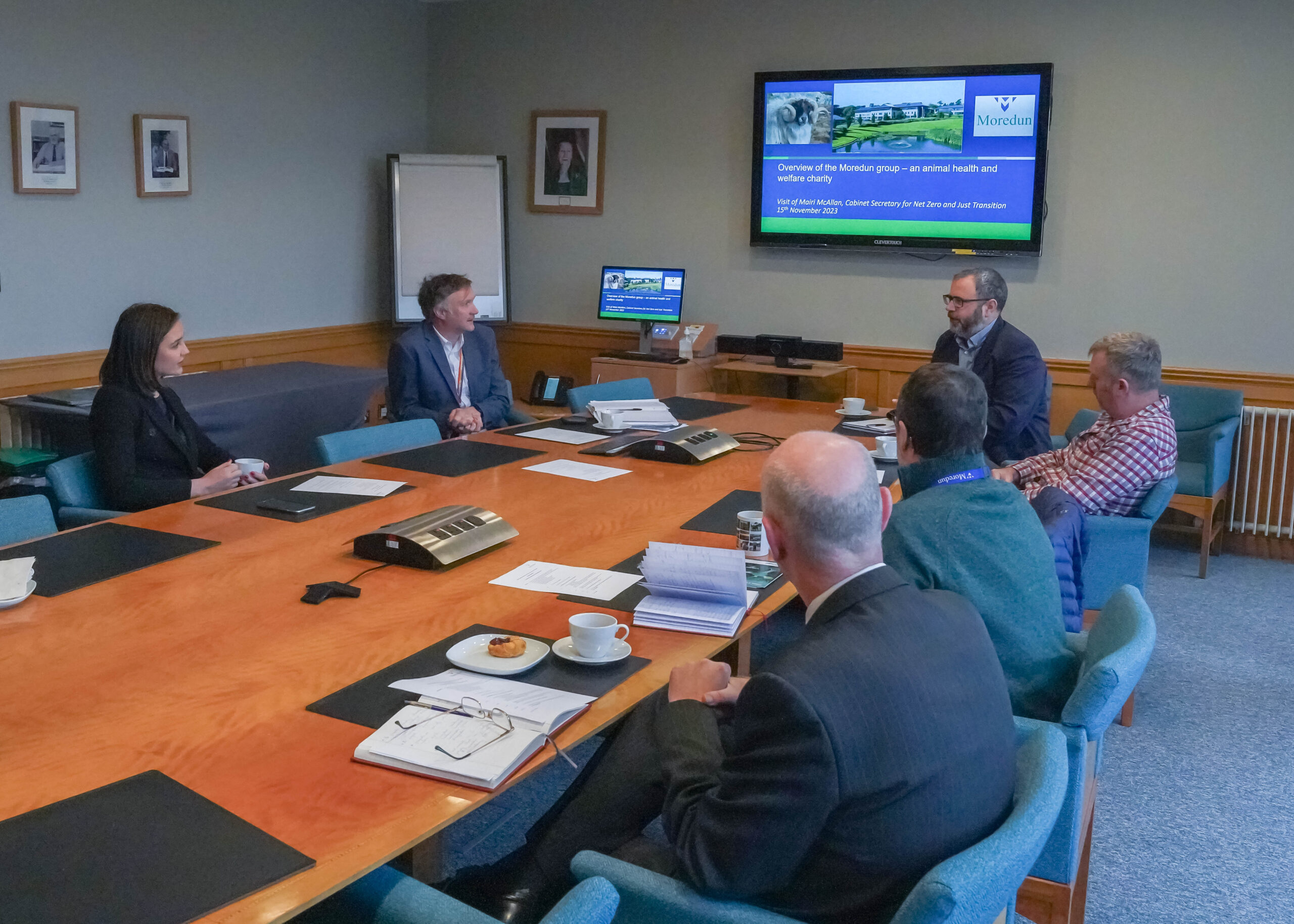 There were further discussions on aquaculture and sea lice, One Health opportunities, and the consideration of science and technology investment as a compelling option for investors, adding an extra layer to the strategies for offsetting emissions.
Ms McAllan accompanied Principal Scientist Dr Dave Bartley to the Parasitology laboratory to learn more about Moredun's work on controlling endemic parasite infections in the UK, which are economic, health and welfare concerns in all livestock systems.
The visit concluded with Ms McAllan visiting the Moredun BioBus which is used for outreach events in the field, on the farm and in schools. The New Knowledge Exchange and Communications Manager, Mr Andrew Kelloe emphasised the importance of outreach and engagement in Moredun's work.
Before leaving Ms McAllan expressed her thanks to Moredun for providing extra capacity for the testing of samples during the COVID-19 pandemic and, more generally, for Moredun's ongoing commitment to improving animal health and welfare.