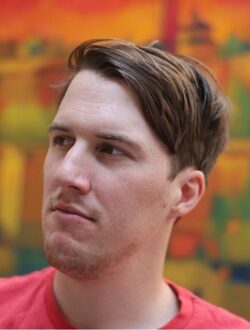 Andrew Kelloe
Job Title:
Knowledge Exchange and Communications Manager
Contact Email:
[email protected]
Contact Number:
0131 4456 146
Address:
Moredun Research Institute, Pentlands Science Park, Bush Loan, Penicuik, Midlothian EH26 0PZ
Job Role
Andrew began working at Moredun in August 2023 as the Knowledge Exchange and Communications Manager. His responsibilities include leading and managing the Communications Team to enhance the impact of Moredun's research, as well as fostering important relationships with the organization's primary stakeholders to explore new opportunities.
Biography
Andrew has an MSc in Environment and Development from the University of Edinburgh.
He has a decade of experience working within the Knowledge Exchange and Research community in Scotland. Andrew was previously part of a team to establish the Knowledge Exchange and Impact hub for the Scottish Environment, Food and Agriculture Research Institutions (SEFARI) collective, a multimillion investment in strategic and multidisciplinary science.
Andrew thrives in multidisciplinary and collaborative working environments. He enjoys collaborating with experts and learning about their work, particularly scientists and policymakers. Andrew tries to stay curious, focused on outcomes and asking "why".
Andrew is skilled in interpreting scientific information across various topics and communicating it through diverse mediums. This is driven by an ethos to communicate research to the right people, at the right time, and in the right format. Andrew places importance on selecting compelling stories, condensing key messages, and presenting them in a way that resonates with the values of the audience.