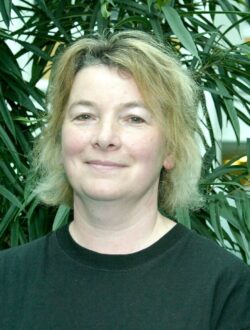 Professor Elisabeth (Lee) Innes
(MBE, FRSE, FRSA, FRSB, ARAgS)
Job Title:
Director of Communications
Staff ORCID ID:
0000-0002-8702-873X
Contact Email:
[email protected]
Contact Number:
0131 4455 111
Address:
Moredun Research Institute, Pentlands Science Park, Bush Loan, Penicuik, Midlothian EH26 0PZ
Job Role
Professor Lee Innes is the director of science communication and knowledge exchange activities, used to increase impact and uptake of new technologies and to increase public engagement in science
Biography
Lee has an honours degree in Immunology from the University of Glasgow and a PhD in Tropical Animal Health from the University of Edinburgh. She is really interested in the relationship between the many pathogens we encounter and our immune responses and how this can be used to develop better methods of disease prevention and resilience. She has conducted research in several different Institutes in the UK and Africa, including working in Morocco and Kenya focusing on infectious diseases of livestock.
Her research interests involve One Health approaches to tackle zoonotic diseases, primarily involving protozoan parasites and she is interested in applying science to improve food and water security and sustainable livestock production. She has published numerous scientific articles and has developed and delivered several competitively funded national and international research programmes.
Following a sabbatical year spent in Hong Kong in 2002-03 where she studied journalism and photography, Elisabeth became more interested in science communication, knowledge exchange and education. Lee took up a new post as Director of Communication at Moredun in 2008, although still retaining some of her research interests. This work has led her to look at innovative ways to engage people in science, in particular within the farming and agriculture sector and to encourage inter and multi-disciplinary scientific approaches.
She was awarded an MBE in the New Years Honours in 2015 for services to scientific research and science communication and also holds Honorary Professorships at Heriot Watt University, University of Edinburgh and University of Glasgow.
Lee recently received an award for outstanding contribution to knowledge exchange at the Scottish Knowledge Exchange Awards in 2017, was elected as a Fellow of the Royal Society of Edinburgh in 2017 and an Associate of the Royal Agricultural Societies in 2019.
Current Research
Lee has a particular interest in zoonotic pathogens and One Health.The main focus of her research has been on protozoan parasites: Theileria annulata, Theileria parva, Toxoplasma gondii, Neospora caninum and Cryptosporidium spp. Her research has focused on developing control strategies based on vaccination and she was involved in developing live attenuated vaccines for both Theileria annulata and Toxoplasma gondii.
Her research has also focused on host-pathogen interactions with the aim of understanding protective immune responses and how this may be used to develop new vaccines.
She is very interested in taking a multi-disciplinary approach and establishing cross disciplinary collaborations and has encouraged this when working with early career researchers.