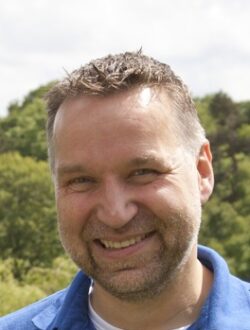 Frank Katzer
(BSc, DPhil)
Job Title:
Principal Research Scientist
Staff ORCID ID:
0000-0001-5902-4136
Contact Email:
[email protected]
Contact Number:
0131 4456 143
Address:
Moredun Research Institute, Pentlands Science Park, Bush Loan, Penicuik, Midlothian EH26 0PZ
Job Role
Dr Frank Katzer manages a research group working on endemic protozoan parasites, which are of veterinary and public health importance.
Biography
Frank obtained his degrees from the University of York in genetics and molecular biology/parasitology. He has worked on protozoan parasites of veterinary importance since 1990; initially at the University of York, then at the Roslin Institute, Glasgow University Veterinary School and then to Edinburgh University Veterinary School. His research focused mainly on ticks and tick-borne protozoa (Theileria and Babesia species).
In 2007 he joined the Moredun Research Institute where he set up his own research group and his research interest changed to endemic protozoan parasites within the UK, some of which cause important zoonoses. He has authored more than 100 parasitology publications and he is a member of the British Society for Parasitology.
He is an associate editor for "Veterinary Research" (since 2013), a founding subject editor for "Current Research in Parasitology & Vector-Borne Diseases", was a subject editor for "Parasites & Vectors" (2017-2020) and an editorial advisory board member for "Parasitology" (since 2011). He regularly reviews papers and grant applications and assesses MSc, MRes and PhD theses (nationally and internationally).
He is also involved in the scientific organisation of parasitology conferences and hosted ApicoWplexa in 2015 in Edinburgh.
Current Research
Frank's current research focuses on protozoan parasites of veterinary and/or public health importance and include Cryptosporidium species, Toxoplasma gondii, Neospora caninum, Giardia duodenalis as well as Sarcocystis and Babesia species. He investigates the genetic diversity and the transmission dynamics of these parasites in order to identify suitable intervention strategies that can enable farmers and public health officials to reduce the spread of these parasites and to limit their disease impact in both animals and humans.
As part of his research, he continues to develop improved diagnostics that help to detect and identify these parasites in animals, food, water and other environmental samples. He also works on the development of novel vaccines and general disease control strategies for some of these protozoan parasites.
He has ongoing collaborations with the University of Glasgow, the Cryptosporidium Reference Laboratory for England and Wales and the Scottish Parasitology Diagnostic and Reference Laboratory in Glasgow as well as European and other international research organisations.
In recent years he received research grant funding from: the BBSRC, the European Union, Medical Research Scotland, the Agriculture and Horticulture Development Board and the Scottish Government.