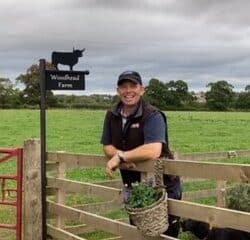 Scott Brown
Job Title:
Board Member - The Moredun Foundation
Biography
Scott works for the Dumfries based veterinary pharmacy, Murray Farmcare, as a territory manager covering Midlothian and the Scottish Borders.
Scott grew up on his parent farm in Midlothian, a mixed arable unit with Texel, Suffolk and commerical ewes flocks but left the family farm in 1997 to begin a career in artificial breeding. This involved a role at Britbreed where he specialised in AI and ET work in cattle and sheep. In 2003 he joined the on farm sales team at R.H. Millers covering Peebles and the Scottish Borders, before taking up his role with Murray Farmcare in 2008.
His pastimes involve rugby, breeding Pedigree Suffolk Sheep and founding the Capielaw flock in 1997.  Scott has latterly been producing Beef Shorn X Highland Cattle from the family Highland Cow fold, selling heifers at Oban and 100% greass fed and finished bullocks to the butchers privately.
He is an active member of the Dalkeith Agricultural Society and RHASS.