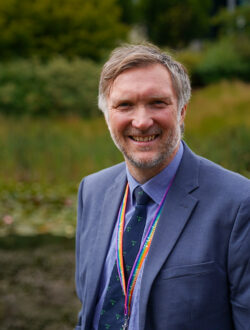 Dr Tom McNeilly (PhD)
Job Title:
Board Member - Moredun Scientific Ltd.
Contact Email:
[email protected]
Contact Number:
0131 4455 111
Address:
Moredun Research Institute, Pentlands Science Park, Bush Loan, Penicuik, Midlothian EH26 0PZ
Job Role
Scientific Director of the Moredun Research Institute and Chief Executive of the Moredun Foundation
Biography
He joined Moredun in 2006 following the completion of his PhD at R(D)SVS, University of Edinburgh. He is a qualified veterinary surgeon, and prior to his PhD spent four years in mixed practice.
His major interests are in mucosal immunology of ruminants, specifically host-pathogen interactions at mucosal surfaces, and how these may inform future disease control strategies.
This work involves studying mucosal responses at multiple levels from cell culture, through organoids, tissue explants and other 3D-cell culture systems, to in vivo challenge models. In addition to exploring basic immunological questions in ruminant species, his work involves the development of vaccines to control veterinary pathogens residing at mucosal surfaces, such as gastro-intestinal parasites of sheep and cattle, as well as zoonotic pathogens with a ruminant reservoir including Coxiella burnetii and Escherichia coli O157. He also has an interest in the immune basis of disease resistance and susceptibility in ruminant species.
Current Research
Development of vaccines against ruminant gastrointestinal parasites and zoonotic bacterial pathogens
Host-pathogen interactions at the mucosal surface
The causes and consequences of immune variation in ruminant populations
Investigation of immune-regulation in ruminants in relation to parasitic and bacterial diseases
Current funding
EBRC/Zoetis "Ostertagia ostertagi in cattle: understanding host-parasite-drug interactions in different developmental stages" (2020-2023)
CEVA Animal Health "Systems vaccinology approach to defining immune correlates of projection for ruminant Q fever vaccines" (2020-2021)
NERC Large grant: NE/R01664X/1 "The ecology within: The impact of gut ecosystem dynamics on host fitness in the wild" (2019-2024)
Wellcome Trust "Tuft cell activation and intestinal immunity" (2018-2022).
BBSRC/DHSC: BB/R019975/1 "Accelerated development of a safe and easily manufactured Q fever vaccine." (2018-2021)