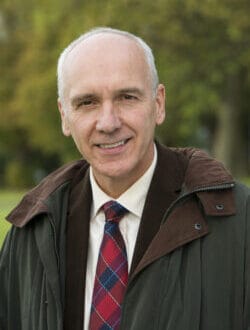 Uel Morton
Biography
Uel was born and raised on a mixed livestock farm in County Armagh, Northern Ireland. He is a graduate in Agriculture and Food Marketing from the University of Newcastle upon Tyne; holds the Diploma in Marketing and graduated with an MBA from Edinburgh Business School in 1997.
His early career was mainly in the agricultural supply industry and in 1997 he was appointed Chief Executive of federal supply co-operative United Farmers Ltd. Following this he joined Quality Meat Scotland as Chief Executive in 2006.
At QMS Uel worked to promote the Scotch Beef, Scotch Lamb and Specially Selected Pork brands through marketing campaigns and the successful Scotch Beef Club for food service and Scotch Butchers Club for independent retailers. He has also led improvements to industry efficiency through knowledge exchange activities such as the well-recognised QMS monitor farms programme.
He was closely involved in the formation of Scotland Food and Drink and participated in its leadership and development until he stepped down from QMS in July 2017. In March 2017 he was appointed by Scottish Ministers as co-chair of the Scottish Food Commission.
Uel is now developing a plural career with involvement in a number of non-conflicting non-executive advisory positions. He is development director with Scotbeef Limited, a non-executive director at Fane Valley Stores Ltd as well as his recent appointment as a non-executive director at Moredun Research Institute.