Grazing lambs are commonly affected by a number of different parasitic gutworms that live in their stomach and intestines. One of these gutworms is Nematodirus battus (sometimes called thread-necked worm). This worm typically infects young lambs in spring at around 6-8 weeks of age.
How do Nemotodirus impact the health of your animals?
Signs of infection include reduced appetite, reduced production, acute yellow/green diarrhoea and subsequent dehydration. The lamb fleece can also appear dull or rough and infected animals could be displaying abdominal pain with a "tucked-up" appearance and sunken eyes.
Infective larvae are ingested with grass and find their way to the small intestine where they disrupt the normal integrity, structure and function of a lamb's small intestine, leading to the disease symptoms described above. Intensity of the infection varies between lambs. Whilst the majority will recover within a month, mortality rates can be as high as 10-30% of the lamb crop in which animals suffer intense scouring and succumb to dehydration quickly.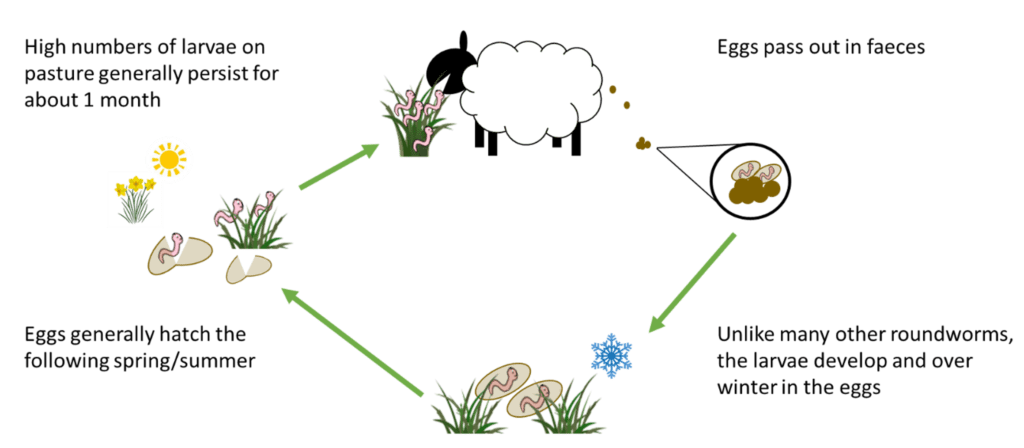 Villi (finger like projections that increase the surface are of the gut) allow nutrients and water to taken up by the body. Nematodirus bind these villi together stopping the host from effectively taking up nutrients (leading to poor growth) and water (leading to dehydration).
The image below shows part of a Nematodirus coiled around three villi, binding them together: