Moredun's Regional Advisors
The Moredun Foundation has an established group of over 40 Regional Advisors from different sectors of the industry.
Regional Advisors keep Moredun up to date with livestock health issues in their local area and help communicate research outputs to those that may benefit from them.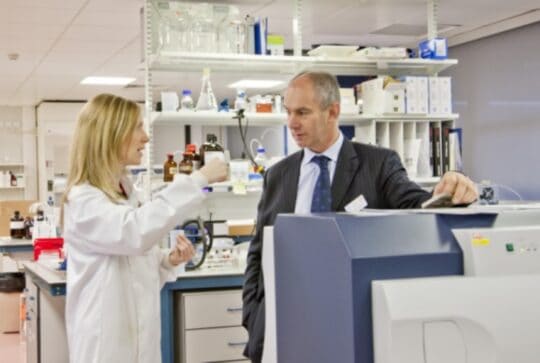 There are five Regional Boards: South of England, North of England, South of Scotland, North of Scotland and Wales. Each is comprised of farmers, veterinarians, SQPs, industry representatives, young farmers and students collectively representing a wide cross section of stakeholders within the livestock industry.
The Chair of each Regional Board is appointed as a full member on the main Board of The Moredun Foundation to ensure that each region is represented.
The feedback from our Regional Advisors is invaluable to Moredun.  Not only does it help ensure that the research outputs from the organisation are relevant and useful to the livestock industry but it helps formulate Moredun's communications and outreach work to ensure that farmers and vets can continue to benefit from our work.
"Moredun can take great pride from the healthy relationship it has across the spectrum of the livestock industry from primary producers, to animal health industries and other stakeholder groups. Much of that success, I would say is down to the two-way street of knowledge passed both ways between Moredun and its stakeholders."
– Scott Brown, farmer and SQP, South of Scotland Regional Board.
 "During my time as a regional advisor, Moredun's unique relationship with its stakeholder community has become ever more apparent and Moredun has succeeded in building a globally recognised research team and a framework of stakeholders facilitating two way information exchange and mutual understanding of research needs and capabilities."
– Roddy Dunse, Veterinary Surgeon, South of Scotland Regional Board.
"Moredun's relationship with its core membership is unique because it was founded by farmers for farmers. The fact that it is farmer owned as well makes the relationship with the farming industry so special. The information created by Moredun is freely available to its members in an easy to understand format and is always up to date. The integrity of the research and that of the Moredun scientists is beyond reproach."
– Sandy Tulloch, farmer, North of Scotland Regional Board.
---