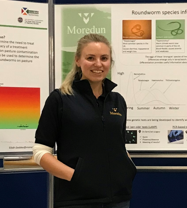 Lynsey Melville
(BSc, PhD)
Job Title:
Research Scientist
Staff ORCID ID:
0000-0002-2115-9307
Contact Email:
[email protected]
Address:
Moredun Research Institute, Pentland Science Park, Bush Loan, Penicuik, Midlothian EH26 0PZ
Job Role
Applied and molecular parasitologist working across several projects within the parasitology department.
Biography
Lynsey developed an interest in parasite biology during her undergraduate degree in infectious diseases at the University of Edinburgh. Following her graduation in 2011, she worked as a research assistant for 3 years within an EU collaborative project; GLOWORM, which aimed to tackle anthelmintic resistance in farmed ruminants. During this time Lynsey was involved in running field trials developing on-farm strategies for sustainable anthelmintic use in grazing lambs, whilst also developing molecular biology skills, quantifying makers for benzimidazole resistance in roundworms.
Lynsey then continued her research in this area, with a joint PhD between the University of Liverpool and Moredun with Dr Dave Bartley and Dr Jan van Dijk; investigating the novel emergence of benzimidazole resistance in Nematodirus battus and recent behavioural changes in this parasite species.
Following completion of her PhD in 2019, she has continued her work as a postdoctoral researcher within the Moredun parasitology lab, working towards slowing the development of anthelmintic resistance in sheep and cattle roundworms. Lynsey is also the current vice president of the British Association of Veterinary Parasitology (BAVP).
Current Research
Lynsey is an early career researcher studying veterinary parasitology, specifically the sustainable control of gastrointestinal nematodes (GIN) in grazing livestock. She has a keen interest in the evolution of parasite behaviour and the factors which influence it. Her research began in applied parasitology, optimising anthelmintic treatment strategies for grazing lambs.
Through several research projects she has gained a range of molecular biology skills, developing, validating and applying tools across multiple platforms including pyrosequencing, loop-mediated isothermal amplification, qPCR and next generation deep amplicon sequencing. Lynsey's unique skills base allows her to take a whole-system approach to her research, understanding the real-world implications of research outputs and communicating these to key stakeholders.
Currently, Lynsey is working on two projects funded by the Veterinary Medicines Directorate. The first, evaluating molecular tools available for the differentiation of roundworm species and how these can be used to benefit the industry. The second, investigating the role of livestock trade the transmission of roundworms and development of anthelmintic resistance.