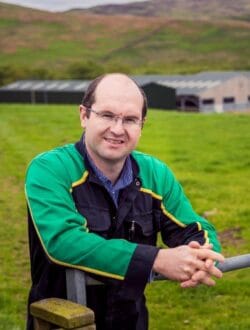 Sion Williams
Job Title:
Regional Advisor - South of Scotland
Job Role
Sion Williams, originally from a mixed livestock farm near Foel in Montgomeryshire, Wales has been working at Buccleuch's Bowhill Estate in the Scottish Borders since 2004, after working for Scottish Government.
Sion, as farms manager, is responsible for 13,500acres under Bowhill Farming Ltd and 20000ac under Eskdale and Liddesdale Farming Ltd. Stocking includes 600 suckler cows, both pedigree and commercial, a flock of 10800 ewes, 116 Hinds for Venison, a 32000 hen poultry unit and a 200kW Anaerobic Digestion Plant. Barley, oats and kale is grown for stock feeding.
Efficiency improvements, and market-focused changes to sheep, cattle and arable enterprises have been central to his policies. Sion achieves this by extensively benchmarking all enterprises in order to maximise output while minimising costs. EID records weights, movements and veterinary treatments across all cattle and sheep. He is currently a LEAF (Linking Environment and Farming) Demonstration Farm and one of 32 Agri-Epicentre Satellite farms embracing technologies such as satellite imagery looking as pasture levels, cattle boluses looking at cow temperatures and agility, and water drinking weighers.
In 2013 and 2016, Sion was the runner up finalist in the Farmers Weekly 'Farm Manager of the Year' award category, 2014 'Shorthorn Suckler Herd of the Year', and 2015 and 2018 Scottish Sheep Farm of the Year finalist. Sion is currently the NFUS Lothian and Borders vice chairman and past chairman of the Scottish Beef Association's Beef Event 2017.