About Anthelmintic Resistance
What is anthelmintic resistance?
Anthelmintic resistance refers to worm populations surviving a correctly-applied, standard dose of anthelmintic (anti-worm treatment).
Anthelmintic resistance is:
Genetic: Resistant worms produce resistant offspring
A pre-adaptive phenomenon: Genes that lead to resistance are already present in the worm population
Irreversible: No effective return to susceptibility even after removal of selecting anthelmintic.
Resistance to all the main anthelmintic classes has been exhibited by nematode populations in most sheep-rearing countries over the last twenty years.
It is important to note:
that it is the worms that are resistant to anthelmintics, NOT the sheep.
that resistant worms produce resistant offspring.
that sheep are transporters of resistant worms.
that it should be considered where pasture contamination is greatest.
that it should be considered what treatments have been administered to which animals, what class of animals were treated and where animals have grazed post-treatment.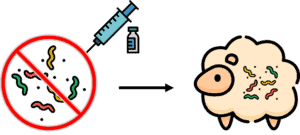 Worms are resistant to anthelmintics ——- Sheep carry anthelmintic-resistant worms