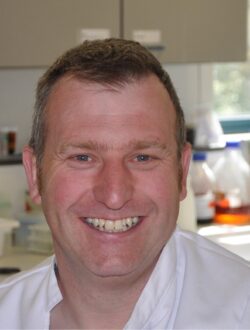 Dave Bartley
(PhD)
Job Title:
Principal Research Scientist
Staff ORCID ID:
0000-0002-8543-9244
Contact Email:
[email protected]
Contact Number:
0131 4456 144
Address:
Moredun Research Institute, Pentlands Science Park, Bush Loan, Penicuik, Midlothian EH26 0PZ
Job Role
I have a keen interest in anthelmintic resistance research, particularly in areas around improving diagnostics and control strategies for nematode infections of ruminants.
Currently I have projects looking at:
transmission risks of animal movement and wildlife in the dissemination of nematodes species
the development and generation of genomic resources for sequencing, applying markers of anthelmintic resistance in the field to assess the effectiveness and impact of different control strategies on worm populations
identifying and characterisation monepantel resistance
the factors that influence farmer's attitudes and behaviours with respect to nematode control.
Biography
I graduated from the University of East London in 1995 with a BSc (Hons) Infectious Diseases and began work at Moredun later that year. In 2008 I was awarded my PhD from Edinburgh University for work on the 'Prevalence, characterisation and management of anthelmintic resistance in gastro-intestinal nematodes of Scottish sheep'.
I actively participate in the promotion of best practice roundworm control in ruminants and my work has been used to inform and update government, levy board and industry led initiative (e.g. Sustainable Control of Parasites of Sheep; SCOPS and Control of Worms sustainably; COWS) publications on the best practice advice for stakeholders.
Current Research
Parasitic nematodes an evolving problem: Understanding drug resistance progression and transmission and developing tools to improve mitigation strategies
Veterinary Medicines Directorate and DEFRA, Principal Investigator 2019-2022
Worms, sheep and environment: integrating ecological perspectives into resistance management NERC case studentship 2018-2022
COMBatting Anthelmintic Resistance in ruminants (COMBAR;), EU COST action CA16230 – Working group leader 2018-2021
Scottish Government Higher Education Institute link with Glasgow University, Monepantel: anthelmintic resistance and the development of tools for sustainable use. Moredun Lead investigator
The BUG consortium Building Upon the Genome: using H. contortus genomic resources to develop novel interventions to control endemic GI parasites. BBSRC Strategic LoLa (BB/M003949/1). 2015-2020, Co-investigator