'For Flock's Sake – Let's Stop Scab Together' a Rural Development Programme for England (RDPE) funded sheep scab project reaches its target of 300 farmers.
In January 2021, funding was awarded by Defra through the European Agricultural Fund for Rural Development for a project designed to demonstrate the effectiveness of a community-led approach to improve the control of sheep scab. The project focuses on three hotspot areas in England, where scab is highly prevalent: The South West (coordinated by the National Sheep Association (NSA)); The Midlands (coordinated by ADAS) and The North West (coordinated by the Cumbrian Farmers Network). Within each of the three hotspots, there are a number of 'clusters' of farms that either share common boundaries or use the same common grazing, with the aim within each cluster being to foster cooperation in the control of scab. Running over two years, the project offers a great opportunity for farmers to work together, with their local vets and the project coordinators, to stamp out this costly disease, which is of high welfare concern. A full complement of 300 participating farmers have now signed up to a unique combination of on-farm advice, best practice training and free blood testing using the sheep scab ELISA test developed by Moredun and available through Biobest Laboratories Ltd. This includes the costs of visits by their local vet to allow two sets of blood samples for ELISA testing, plus a face-to-face advisory visit by the vet for each farm to discuss scab control and biosecurity. A truly win-win situation!
This project has filled an important gap in sheep scab control, with an incredible response from the farmers. Dr Stewart Burgess of the Moredun Research Institute, who leads the project alongside Prof Richard Wall (University of Bristol) and Lesley Stubbings (Independent sheep consultant) said "The levels of engagement and enthusiasm have been really promising and in some clusters the coordinators have more farmers than can be funded under current budgets. The local vets have responded fantastically to the project, in many cases they are leading their own clusters of farmers and have been instrumental in encouraging their clients to get involved. By the end of November 2021, we had already processed over 200 sets of blood testing (~3,000 samples) with results reported back to the coordinators and vets. Discussions regarding coordination of treatments are now taking place in many areas, with farmers being encouraged to treat with an organophosphate plunge dip where scab has been diagnosed and where it is possible to do so".
The ELISA blood test results for each farm are carefully analysed by the farmer's vet in relation to the scab-history of the farm in question and its neighbours, before advice is given about whether treatment, or follow up monitoring and inspection, are required. The key aspects of this approach are communication, cooperation and co-ordination within clusters" says Prof. Richard Wall, whose work on sheep scab underpins the hotspot approach. "With such a high number of farmers wanting to take part we are very hopeful that at the end of the current project we will have a legacy of experience that can be used in other parts of the country", he adds.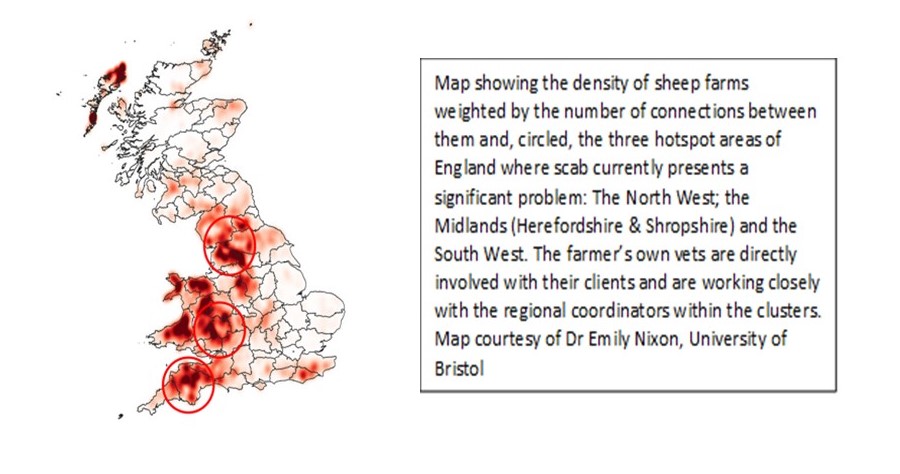 Karen Swindlehurst is a vet in North Yorkshire who is coordinating two clusters. "The farmers in my clusters are really keen to be involved and have come together to share results and plan treatments". We started blood testing at the summer gather and ~20% have proved to be positive so far. It has been and amazing response and discussions have really opened up between neighbours about how they can coordinate treatments. As their Vet, the project also gives me the opportunity to sit down with them and talk through issues such as biosecurity and opening up the way to more proactive health planning in the future".
For more information, please contact Stewart Burgess [email protected]