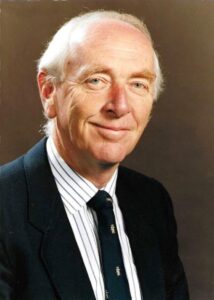 Sir James Armour CBE (1929-2021)
Moredun colleagues past and present were very sad to learn of the death of Sir James (Jimmy) Armour CBE, a former Director and Trustee  of the Moredun Foundation between November 1998 and September 2004, latterly serving as Chairman. He also served on the board of Moredun Research Institute between November 1997 and September 2006.
Jimmy was a world renowned Veterinary Parasitologist spending much of his career at the University of Glasgow and his early career working for the colonial veterinary service in Nigeria. His research led to many new diagnostic tests and treatments for parasitic diseases having a significant impact both in UK and internationally.
He was also passionate about teaching and encouraging the next generation of veterinarians and researchers and he has left a great legacy in promoting the science of Parasitology. He was knighted in 1995 in recognition of his contribution to veterinary science and education.