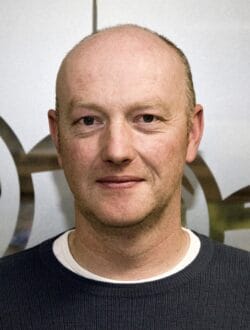 Alasdair Nisbet
(PhD, FRES)
Job Title:
Deputy Director of the Moredun Group
Staff ORCID ID:
0000-0002-4965-5396
Contact Email:
[email protected]
Contact Number:
0131 4455 111
Address:
Moredun Research Institute, Pentlands Science Park, Bush Loan, Penicuik, Midlothian EH26 0PZ
Job Role
Alasdair is the Director of Research and Innovation and Head of Vaccines and Diagnostics at Moredun Research Institute. His role is to lead scientific strategy in the development of novel vaccines and diagnostics for diseases of livestock.
Alasdair leads groups working on vaccine and diagnostic development for endemic diseases of livestock caused by viral, bacterial and parasitic pathogens.
Biography
Alasdair graduated from the University of Glasgow with a BSc in Agricultural Zoology and a PhD in Biochemistry. After postdoctoral appointments at the University of Aberdeen and University of Melbourne, he came to work at Moredun in 2004.
Over the last 30 years, his research focus has been on novel methods of controlling pests and parasites with an emphasis on understanding and exploiting the unique physiology of parasites of veterinary significance, in particular by understanding their interactions with the host to produce novel vaccines. This has included successful development of prototype vaccines for sheep scab, poultry red mites and gastrointestinal nematodes. He is Chief Scientific Officer of Wormvax Australia, a company which developed, manufacture and market the only commercially-available vaccine to control a helminth parasite of sheep ("Barbervax™"). He has published >150 peer-reviewed manuscripts and currently holds >£5M in research funding as principal investigator or as a co-investigator with a range of colleagues internationally.
Current Research
Current research is focused on three main areas:
1) The development of recombinant subunit vaccines to control gastrointestinal helminths of ruminant livestock, with collaborators in Europe and Australia
2) Understanding the biology of, and developing novel methods of controlling poultry red mites, with collaborators in the UK and Europe
3) Developing novel diagnostics and vaccines for sheep scab mite, with collaborators in the UK.