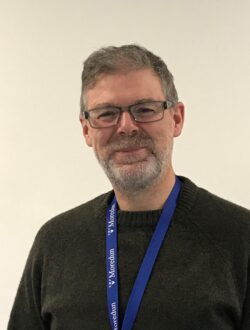 Andy Chadder
(BSc)
Job Title:
Head of in vitro Biosafety
Contact Email:
[email protected]
Contact Number:
0131 4456 206
Address:
Moredun Scientific, Pentlands Science Park, Bush Loan, Penicuik, Midlothian EH26 0PZ
Job Role
Andy is Head of in vitro Biosafety and joined Moredun in 2020.
Biography
Andy holds a BSc (Hons) in Medical Microbiology from the University of Dundee. Initially beginning his career in the Health Service in Virology and Immunology at Raigmore hospital, Inverness, he has gained over 30 years' experience within the Pharmaceutical and Healthcare industry.  He was one of the 6 founder members of BioReliance Scotland and managed the Virology and BioAnalytical testing divisions, performing regulatory assays on pre-clinical, clinical and commercial biological therapeutics.
Andy was also Head of GMP Analytical QC testing for a commercially licenced vaccine product for 4 years where he gained expertise in liaising with regulators in managing and contributing to a commercial product dossier. He has served as Head of GMP Manufacturing in a number of organisations making a diverse range of biological and small molecule products for clinical trials and the commercial market.. He has considerable expertise in Tissue culture, Bacteriology and Virology and has worked with organisms up to Category 3.
He is a subject matter expert for biosafety testing, cleanroom validation & manufacturing and has contributed to numerous successful regulatory inspections from MHRA, US FDA and other competent authorities.