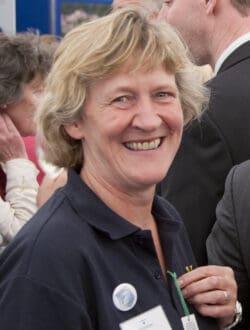 Beth Wells
(PhD)
Job Title:
Knowledge Exchange Specialist & Principal Research Scientist
Staff ORCID ID:
0000-0003-4203-8528
Contact Email:
[email protected]
Contact Number:
0131 4456 157
Address:
Moredun Research Institute, Pentlands Science Park, Bush Loan, Penicuik, Midlothian EH26 0PZ
Job Role
Beths' role is to lead in areas of interdisciplinary research and develop innovative approaches to Knowledge Exchange and key relationships with stakeholders to increase the impact of our research outputs and generate funding opportunities.
Biography
Beth has a background in livestock farming and veterinary diagnostics with biological and environmental science, animal production science and parasitology qualifications. With a lifelong interest and experience of farmed livestock, her research interests involve working in interdisciplinary teams to improve the health and welfare of farm animals, through the development of approaches to prevent and control parasitic and endemic diseases. In order to achieve this, Beth works across the Moredun Research Institute collaborating with science teams to further research and increase the impacts to our stakeholders.
Science communication, collaboration with Moredun's stakeholders, in particular farmers and vets, and the development of innovative knowledge exchange activities is an area of great interest to Beth. She is very keen to ensure that Moredun's scientific outputs are communicated effectively to improve livestock health, welfare and production, and she enjoys developing novel Knowledge Exchange approaches.
Another key area of interest is in working with stakeholders in the land management sector, which has led to income generation in funding the development of a new generation vaccine for louping-ill in sheep. This work has also established networks to improve and inform land management decisions and opportunities in wildlife, game and conservation management, working with inter-disciplinary partners and using a holistic approach.
Due to a lifelong interest in all things equine, Beth is also leading a Fellowship project to take a fresh look at the causes and risk factors associated with Equine Grass Sickness, a devastating disease of equines.
Current Research
Cryptosporidium: My main research interest involves zoonotic protozoan parasites, the impacts on animal and public health and how these parasites survive in the environment, where they act as sources of infection for livestock, wildlife and people. This has led to a wider interdisciplinary approach in whole catchment studies involving broader land, water, wildlife and conservation management science. Current research projects include the Orkney Goose Project investigating the transmission of Cryptosporidium parvum between livestock, high densities of co-grazing Greylag Geese and public water sources on Orkney.
Louping Ill: Due to my networks within the Game and Wildlife Conservation Trust, Moredun obtained funding from Scottish Estate Owners to develop a new generation vaccine for louping-ill in sheep. I am currently collaborating with funders and the relevant research team within Moredun on this, with the aim of producing a commercially available vaccine for this serious tick-borne disease of hill sheep and red grouse.
Equine Grass Sickness Fellowship Project: Lead researcher working with a team investigating the causes and risks of EGS, with a fresh inter-disciplinary approach and the development of a national equine biobank. This research project was funded by the Equine Grass Sickness Fund, Moredun and the British Horse Society and involves input from multiple scientific disciplines including the related environmental aspects of soil science; pasture and botany; geography; climate and geology, alongside the animal aspects of immunology; genetics; transcriptomics and proteomics. As this disease has been a problem for over 100 years and the causes are not yet known, this project, with a multi-factorial approach, is critical for future equine health and welfare.