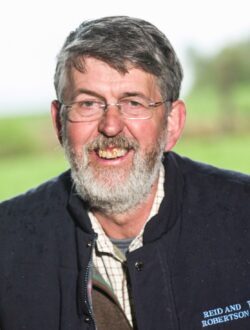 Bobby Lennox
Job Title:
Board Member
Biography
Bobby has lived all his life on the family farms of Shemore and Shantron, Luss. His farm is a 4000 acre hill farm on the west side of Loch Lomond. It ranges from 20ft above sea level to 2,275ft and has annual rainfall of 100 inches. The majority of the farm is unimproved hill and carries a breeding stock of 1,100 Scottish Blackface ewes, and 25 mainly Luing suckler cows. Lambs are sold prime, either off grass or out of fattening sheds, between August and March. The farm has always been farmed in an environmentally friendly and sustainable way. Bobby has hosted many school visits to the farm as well as Glasgow vet school first year students and groups of overseas agriculturists.
Other agricultural experience includes: a six month study tour of New Zealand farming in 1978-79, and a brief look at sheep and cattle ranching in Wyoming and dairying in West Virginia in 1990. Through his various Young Farmers activities, Bobby has been on many different types of farms in northern Italy, Finland, Norway, Germany and France. Bobby qualified as a British Wool Marketing Board shearing instructor in 1974 and also completed an Agricultural Training Board course on Instructional Techniques the same year. He spent a week on a New Zealand Wool Board shearing course in 1978.
Bobbly is also a Royal Yachting Association Dinghy Racing Coach and a RYA Powerboat and Safety Boat instructor.
Bobby has been the national Chair and President of the Scottish Association of Young Farmers Clubs, a member of the Council of the Scottish Agricultural Organisation Society (SAOS), a member of the NFUS Council, a member of the Scottish Agricultural College Council, a member of the Management Committee of the Royal Highland Educational Trust as well as being a board member of the Royal Highland Agricultural Society of Scotland.
Since 2015, Bobby has been a member of the Moredun North of Scotland Regional Advisors Committee.