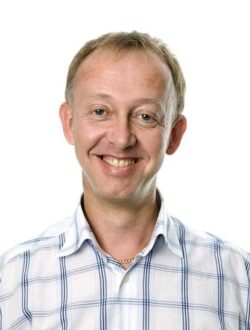 David Longbottom
Job Title:
Head of Research Quality
Contact Email:
[email protected]
Contact Number:
0131 4455 111
Address:
Moredun Research Institute, Pentlands Science Park, Bush Loan, Penicuik, Midlothian EH26 0PZ
Job Role
Since 1997, David has led Chlamydia research at Moredun, investigating the pathogenesis and control of chlamydial infections in ruminants including developing tools for improved diagnosis and developing improved vaccines.
Biography
David graduated from the University of Manchester in 1985 with a BSc (Hons) in Biochemistry, and from the University of Edinburgh 1989 with a PhD in Biochemistry on the effects of cholera toxin on intracellular signalling in enterocytes.
His first Postdoctoral position was a 4-year project at the MRC Human Genetics Unit in Edinburgh on the tissue localisation of the product of the Cystic Fibrosis gene, the Cystic Fibrosis Transmembrane Conductance Regulator. He moved to Moredun in January 1993, taking a post within Moredun Animal Health (now Moredun Scientific) on a commercially-funded project developing vaccines for controlling nematode infections.
In 1994 he was appointed as a postdoctoral scientist on an EU-funded Third Framework project developing better detection systems for chlamydial infections of farm livestock and zoonotic infections of man. He also has an interest in bovine respiratory disease, and specifically in the control of Pasteurella multocida infections, as well as using second and third generation sequencing technologies and metagenomic analyses to investigate complex microbial populations associated with specific disease syndromes and monitoring environmental health through sentinel wildlife species and the dynamics with livestock.
He is currently editor or editorial board member for three scientific journals, leads the EU DISCONTOOLS expert committee on chlamydiosis and is President of the European Society for Animal Chlamydioses and associated Zoonoses (ESACZ).
Current Research
Understanding the mechanisms by which chlamydial pathogens cause disease and interaction between host and pathogen (SG Programme Research 2016-22)
Identifying and characterizing the components that can be used in the control of chlamydial infections through genomic, bioinformatic, molecular and proteomic approaches (SG Programme Research 2016-22).
Development of improved control strategies for Ovine Chlamydiosis, including improved vaccines, vaccine delivery systems and diagnostic tools (SG Programme Research 2016-22).
Chlamydia abortus genome sequencing project to investigate strain variation and diversity in collaboration with colleagues in Europe
Development of computational and analytical metagenomic pipelines for analysing microbial populations and host response associated with disease syndromes or vectors, and changes in populations resulting from different external factors (SG Programme Research 2016-21).