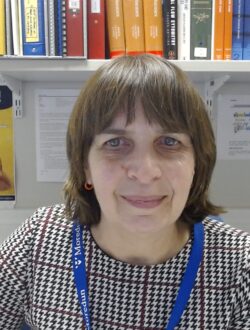 Mara Rocchi
(BVM&S, PhD, MRCVS, MISTR)
Job Title:
Head of Virus Surveillance
Staff ORCID ID:
0000-0003-0276-8040
Contact Email:
[email protected]
Contact Number:
0131 4456 128
Address:
Moredun Research Institute, Pentlands Science Park, Bush Loan, Penicuik, Midlothian EH26 0PZ
Job Role
As Head of Virus Surveillance, Mara's main role is to provide a specialist service to diagnose, monitor and horizon scan for livestock diseases in Scotland.
Biography
Mara joined Moredun in 2000, after 4 years at the International Livestock Research Institute of Nairobi, Kenya, working on the immune responses to ruminant tropical protozoan diseases. From 2000 to 2014, she worked on a number of immunological projects, including analysing disease, vaccine and pregnancy related humoral and cellular responses.
Since May 2014, Mara has been heading Moredun's Virus Surveillance Unit which supports livestock surveillance in Scotland by developing and performing several diagnostic tests. More recently, she has been involved in applying some of these to the detection of zoonotic pathogens in ticks and livestock, with the aim of evaluating risk of transmission to humans. Finally, she is starting to investigate the possibility to move some of the laboratory-based tests to point of care to allow farm/field diagnosis.
Mara supports the Institute's work by performing the role of Biological Safety Advisor, and has qualified as Biosafety Professional Level 1. She is also Member of the Royal College of Veterinary Surgeons, the Sheep Veterinary Society, the Institute of Safety and Technology in Research and the European Biosafety Association.
In 2020-2021, Mara was the operational lead for the SARS-CoV-2 testing performed at Moredun on behalf of the NHS.
Current Research
Mara's current research portfolio is mainly based on detection and identification of livestock and wildlife pathogens to understand their contribution to the UK disease landscape as well as to the application of these assays in support of surveillance activities and disease outbreaks investigations. This involves a combination of assay development, validation and stakeholder communication, such as the work enabling the detection of a new variant of a rabbit lagovirus (RHDV2) in the UK and the development and validation of a multiplex molecular test for Bovine Respiratory Disease Complex.
Alongside this, Mara is developing tests to identify possible zoonotic variant of specific diseases, defining pathogens variants and their contribution to zoonotic disease in ticks, livestock and wildlife.  She is also interested in developing point of care (or pen-side) assays for some of the most common diseases of livestock to enable fast diagnosis and intervention. This work is highly multidisciplinary and collaborative and is partially funded by the Scottish government and partially by grant funding bodies. Some of the assays Mara has developed are now run on behalf by APHA and SRUC surveillance centres, or used for research purposes in collaborative studies.