The Moredun Foundation Award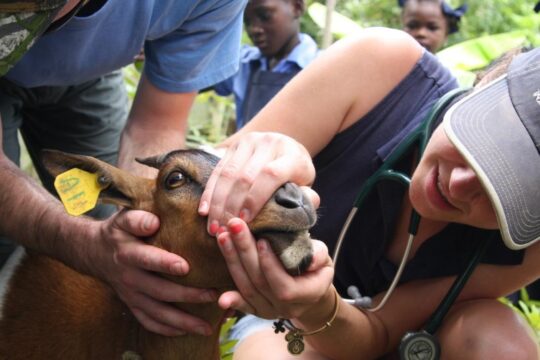 The Moredun Foundation Award recognises the value of education, collaboration, experience and travel in improving knowledge of farming and livestock industries.
The Moredun Foundation Award is now closed for 2022
As part of its charitable activities, the Moredun Foundation established an award scheme to provide an opportunity for individuals in the UK to pursue a short term project to broaden their education and experience in areas relating to livestock health and welfare and the agricultural industry.
The Moredun Foundation Award supports personal development and encourages innovative and diverse contributions to our mission to prevent and control infectious diseases of livestock
Project Proposals
Initially launched as the Moredun Foundation Scholarship in 2012, the Award has been able to support individuals in fulfilling a wide variety of projects and activities.
The TMF Award scheme is open to a wide variety of project proposals, with some examples below:
Learn from farming practices in another country
Develop an app to aid the livestock industry
Carry out a survey to find out current opinion
Support livestock health in a developing country
Run a small scientific project
Create an animated learning tool
Identify awareness and knowledge levels of a livestock health issue
Carry out some work experience
…Or something completely different!
Apply for a TMF Award and move a step closer to achieving your goal.
For more information, of if you have any queries, email: [email protected]
Award details
Up to £2,000 is available per award.
Projects may involve travel, work experience, collaborations with science or the arts and are open to individuals over the age of 18 living in the UK with the condition that you are a member of the Moredun Foundation at the time of applying.
This award will not fund higher education course fees, dissertations, or compulsory coursework.
Acceptance of an award carries an obligation to provide a 2000 word written report of their project for publication and dissemination by the Moredun Foundation.
Each award is given on the express condition that the Moredun Foundation is not under any legal liability whatsoever that may arise from act or omission by the recipient or any third party.
Successful candidates cannot reapply for a Moredun Foundation Award in the future.
Previous TMF Award winners