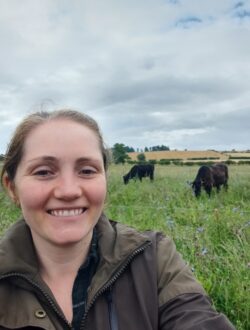 Kate Mitchell
Job Title:
Regional Advisor - South of Scotland
Biography
Kate graduated from the Royal (Dick) School of Veterinary Studies, Edinburgh in 2015.  She is originally from Lancashire but moved to the Scottish Borders in 2017.
She took a career break from veterinary in 2020 to have her daughter and help with the running of her husband's family farm.
They run a 442ha mixed organic farm near Hawick.  They were a QMS Monitor Farm from 2017-2020. Traditionally the farm ran 1000 sheep and 140 suckler cows but in 2018 the sheep were replaced by 300 red deer hinds for venison.
They are currently in a project with LEAF 'Accelerating your Journey to Net Zero' and will become a LEAF Demonstration Farm in 2025.